43_1115_09_Brusilov Assault - PzC 25 Kiev '43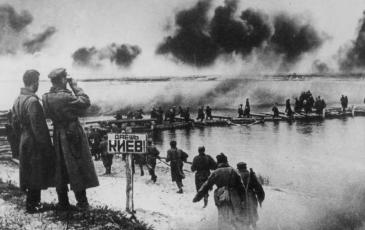 43_1115_09_Brusilov Assault
By David Freer & Bill Peters

2 - 0 - 0

| | |
| --- | --- |
| Rating: | 4.57 (3) |
| Games Played: | 2 |
| SM: | 3 |
| Turns: | 28 |
| Type: | Stock |
| First Side: | Germany |
| Second Side: | Soviet |
Date: November 15, 1943 - Size: Campaign - Location: Brusilov, 82 kms west of Kiev

Intended for Head to Head play or Solo play as either side (Best played as Axis)

For Solo victory conditions please consult the "Kiev-43_Solo-Vic-Cond.pdf" document

Scenario Briefing: For the offensive, the 1st Panzer and 1st SS "LSAAH" divisions were to drive a wedge in the Russians lines and pry open a hole in their defensive setup. The 1st Panzer Division's goal was to assist indirectly with the capture of Zhitomir while the 1st SS "LSAAH" Division was to press the Russians back to the northeast.

The offensive got off to a decent start with both divisions attacking the frontline infantry troops and pushing them back. Russian reinforcements in the center caused the German offensive to stall by the afternoon of the 16th with some progress having been made by the Germans but certainly not enough to cause a major rupture of the Russian lines. With the 8th Guards Tank Corps arriving and the 10th Tank Corps on their heels the idea of a major breakthrough was dashed.

The Russian air cover added in their part by destroying German tanks and basically causing the enemy to go to cover. Poor weather started on the second day making air cover spotty at best for the Russians with no sorties flown by the Germans.

The attack had not achieved the results hoped for primarily because, as von Mellenthin noted in his memoirs, the Germans had diluted their armored divisions and lost the opportunity of making a major breakthrough.
Player Voting Stats
Member
Balance
Enjoyment
vLuttwitz
Totally Pro Germany
7
The Bishop
Moderately Pro Germany
7
Kool Kat
Moderately Pro Germany
5