0513_03: Nicht Kleckern sondern Klotzen! - PzC 12 France '40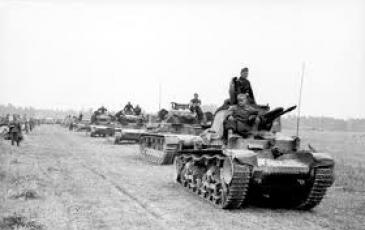 0513_03: Nicht Kleckern sondern Klotzen!
By Mike Prucha

0 - 1 - 0

| | |
| --- | --- |
| Rating: | 9.25 (2) |
| Games Played: | 1 |
| SM: | 4 |
| Turns: | 27 |
| Type: | Stock |
| First Side: | Axis |
| Second Side: | Allies |
The Battle of Meuse, 13 May 1940: "The Ardennes is impassible to tanks!" "The Meuse cannot be
crossed." Between wars, these platitudes were so oft-repeated by French officers that they became
doctrine. Convinced that no major effort could be mounted through the Ardennes, Gamelin
deployed the best, most mobile elements of the French Army to the north, ready to intervene in
central Belgium and the Netherlands when the attack came. These assessments could not be more
wrong. The German operations to the north were no more than a "matador's cloak," aimed at
drawing Allied attention away from the real effort. Not bound by the myth of the impenetrable
Ardennes, millions of German soldiers and thousands of artillery pieces, motor vehicles, and tanks
filed through Luxembourg and southern Belgium in the first days of the campaign. The coming
days would decide the outcome of the Battle of France... [Size: Medium] Design Note: The German
player would be wise to follow Heinz Guderian's personal motto - "Nicht Kleckern sondern
Klotzen!" ("Don't muddle about, make a big impression!"). Though many of the French divisions on
the Meuse are weak, powerful French reinforcements are on their way. If the German player fritters
away his tanks against many points rather than concentrating at a decisive point, the outcome of the
battle could be different from history. This scenario is intended to be played WITHOUT the
"Limited air recon" optional rule. The German player is advised to use as much of his very
considerable air support as possible to weaken the Sedan sector on May 13th. The "Indirect Fire" is
also recommended.