004. Assault on Pearls - Grenada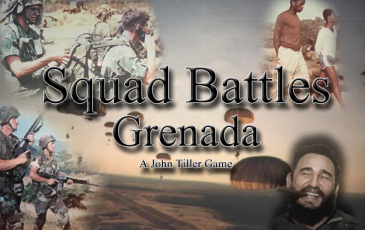 004. Assault on Pearls
By Jeff Conner

4 - 0 - 0

| | |
| --- | --- |
| Rating: | 2.9 (3) |
| Games Played: | 4 |
| SM: | 4 |
| Turns: | 18 |
| Type: | Stock |
| First Side: | US |
| Second Side: | Grenadian (SB) |
Company Level
Normal Day Conditions
Play as US or PBEM

The 22nd Marine Amphibious Unit was headed to Lebanon when it was diverted to the Caribbean. The Marines initially thought that they were going to have the lead role in securing the island and rescuing the medical students trapped there after the murder of Maurice Bishop. However, as the operation grew in size, the Marines were assigned to secure the northern half of the island. This included the only operational airport on the island, Pearls Airfield, on the northeastern coast near the town of Grenville. The Marines planned to land E Company by helicopter a short distance to the south of the airfield. E Company would then move north and secure the landing strip while G Company made an amphibious assault and secured Grenville. However, beach reconnaissance by SEAL Team 4, the only truly successful special operations mission of the war, found that the reef was impassable for landing craft and only marginal for amtraks. They also scouted the airfield and found it was unprepared for a determined attack. Consequently, the plan was changed for F Company to land in a second air assault and secure Grenville after E Company moved north.

The People's Revolutionary Army was aware that the main battle would be fought over the nearly completed airfield at Point Salines. Consequently, they massed most of their regular troops in that area. That left only militia troops to defend Pearls. This became even more of an issue when only a small fraction of the militia members answered the call to arms. There were enough troops to man the few AA guns, but not many more. The airfield was dominated by a small hill just north of the runway and this was the location of the St. Patrick's Battalion's best gunner, a woman.

E Company's landing zone, LZ Buzzard, was supposed to be a racecourse. However, the commander of the lead helicopter, wearing night vision goggles in the predawn light, realized that it was covered with brush and palm trees. He was able to find a small clearing nearby and the operation continued, albeit at a slower pace. The company commander left one platoon behind to guard the LZ and moved north with the rest of his command.
Player Voting Stats
Member
Balance
Enjoyment
jomni
Totally Pro US
5
SandySandie
Totally Pro US
8
CapnMud
Totally Pro US
6