1915_1207_01: The Irish Delay at Kosturino - FWWC 03 Serbia '14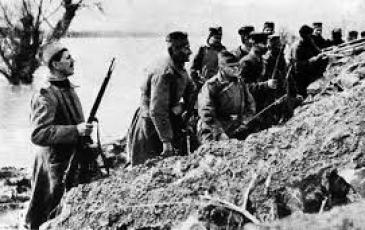 1915_1207_01: The Irish Delay at Kosturino
By Darran fowler & Edward Williams

1 - 1 - 1

| | |
| --- | --- |
| Rating: | 7.73 (3) |
| Games Played: | 3 |
| SM: | 2 |
| Turns: | 21 |
| Type: | Stock |
| First Side: | Central Powers |
| Second Side: | Allied Powers |
Kosturino, Bulgaria, 7th December 1915:

When the French advanced into Macedonia in mid October, British forces advanced from Salonika near the end of the month, delayed by political wrangling. When the British did finally advance, they did so with the 10th (Irish) Division which had just been withdrawn from the Suvla Bay positions at Gallipoli.

The British 10th Division advanced and took up the French right flank, anchoring the allied line to the Dojran Lake, in Greece, and pushing forward towards the Bulgarian border - towards a small town named Kosturino. The 10th Division occupied the area and held it for the duration of November, securing the flank while the French launched their offensive up the Vadar River valley, which culminated in the Battle of Krivolak.

By the 22nd of November, two Serbian divisions launched a failed attack towards Skoplje, and their army was boxed in around Prizren, on the Albanian border. At that point, with Bulgarian opposition increasing around the French front line, it became obvious that the Anglo-French force had to withdraw or risk being destroyed in its extended state. As the French withdrew, the British 10th Division remained in place to hold the vulnerable eastern flank.

In late November, with the Serbian Army routed across the mountains towards the Adriatic Sea, the Bulgarians could now mass their strength completely against the French and British, and they intended to gather a large attack force to smash through the 10th Division's position, cutting off the French 57e Division d'Infanterie's retreat route: the Rabrovo-Dojran road.

In the early hours of the 7th of December, the Bulgarians launched their flanking attack against the 10th Division. Not expecting to hold off the Bulgarians indefinitely, the Irish fought a delaying action for two and a half days. Although the battle was a Bulgarian victory, the Irish delayed the Bulgarians long enough for the French to withdraw and, in the several days afterwards, the 10th Division was able to conduct an orderly withdrawal into new defensive positions across the Greek border.

[Size: small]

*See the notes document for information on scenario design decisions and historical notes.