1915_1007_02: The Invasion Commences - FWWC 03 Serbia '14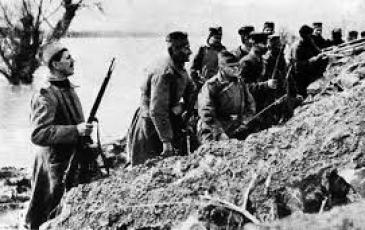 1915_1007_02: The Invasion Commences
By Edward Williams

1 - 0 - 0

| | |
| --- | --- |
| Rating: | 7.9 (1) |
| Games Played: | 1 |
| SM: | 4 |
| Turns: | 37 |
| Type: | Stock |
| First Side: | Central Powers |
| Second Side: | Allied Powers |
Serbia, 7th October 1915:

For the first five days of the fourth invasion, the Germans and Austro-Hungarians conducted their precarious crossings of the Sava and Danube Rivers.

As the invasion commenced, the initial goals were the immediate capture of Beograd, and the establishment of a strong bridgehead in two areas. The two bridgeheads would keep the Serbians from massing all their forces in once place, and unlike all three Austro-Hungarian invasions of the previous year, were located in ideal terrain where it would be possible to follow them up with further advances into the interior of Serbia.

[Size: huge]

*See the notes document for information on scenario design decisions and historical notes.
Player Voting Stats
Member
Balance
Enjoyment
vLuttwitz
Slightly Pro Central Powers
8