---
!!! Patron Medal Awarded !!!
09-28-2020, 05:25 AM,
Scud
Mister Moderator


Posts: 3,623
Joined: Feb 2008
!!! Patron Medal Awarded !!!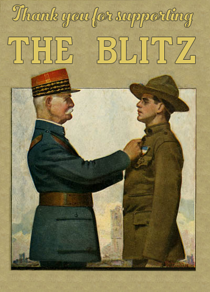 Attention to Orders!
It is my honor to award
Herr Straße Laufer
the
Keeper of the Torch - Patron Medal
, awarded for selfless contributions, over and above, in support of the club. 
Thank you for helping to preserve the long term mission of the Blitz which helps bring gamers together in friendship on the virtual battlefield!
Nice job, Ed and all while battling the technical issues with contributions from Panama.  

Scud
Resolve then, that on this very ground, with small flags waving and tinny blasts on tiny trumpets, we shall meet the enemy, and not only may he be ours, he may be us. --Walt Kelly
09-28-2020, 05:33 AM,
RE: !!! Patron Medal Awarded !!!
Thanks Dave.
The contribution was a small percentage of the cost of those canal tolls!
I did pick up a box of cigars on the way home.

HSL
"The object of life is not to be on the side of the majority, but to escape finding oneself in the ranks of the insane."? Marcus Aurelius, Meditations
09-28-2020, 06:13 AM,
RE: !!! Patron Medal Awarded !!!

Users browsing this thread: 1 Guest(s)
---